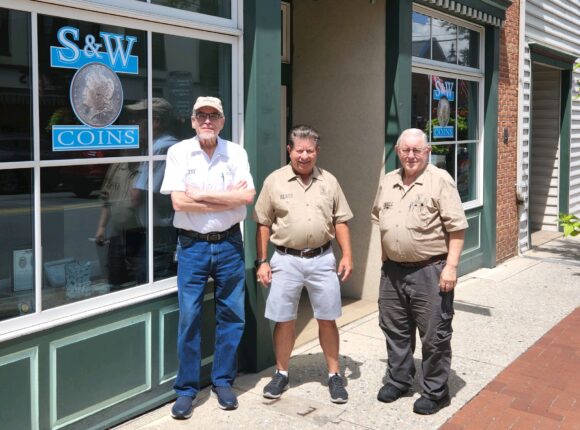 Coin Shop in Gettysburg, PA
S & W Coins has offered quality service and fair prices in Gettysburg, Pennsylvania since 1978. We buy, sell and trade coins, bullion and more.
In all the decades we have been operating, we have finely honed our skills and craft of being dedicated numismatists. Not only do we handle coins and currency, but we also offer services for:
Civil War collectibles
World War II currency
Collectible U.S. & Foreign Postcards
Jewelry
Coin collecting supplies and gifts
Having been in the business for over 40 years, you can count on us to provide competitive and fair prices for our customers. We value nothing more than the integrity of our name, so you can trust us to give you good, honest business.
What We Can Do For You
Apart from the services offered above, we also handle special orders from the mint or other wholesalers. If you are into collecting Civil War artifacts and memorabilia, we recommend that you get in touch with us as soon as possible since we only have limited stock. We also do have a large collection of vintage postcards available for sale, which you can add to your collection or put on display in your home or office.
Not only do we sell, but we also buy. If you have any coins or any other collection that you would like to get appraised, we offer numismatic grading service for $25/hour. However, please do be careful to note that although we are in the Buy, Sell & Trade business, we are NOT a pawnshop. We cannot, therefore, accommodate services that require transactions for pawnshops.
We'd like to keep our business transactions clear, straightforward, and efficient, so we encourage you to contact us to schedule an appointment. We do entertain customers even beyond regular business hours, as long as you have an appointment set with us. Otherwise, you can simply drop by our store whenever you're free in the area.
Your Go-To Source for Coin Collecting
Would be more than happy to answer your queries about your item, the process, and the value that you can expect from it. We are looking forward to having you visit with us, whether you're off to buy collectibles, sell your own, or trade with us. We are a favorite location for world currency collectors. Come see our large selection of offerings today
It certainly would make for a worthwhile stop to add to your itinerary to the historic town of Gettysburg.